---
Every day your team is out there in the field. Maybe you have engineers on a mine site, social workers making housecalls or park rangers working alone way off the beaten track. They face higher operating risks, and they deserve to know that you've provided them with the best in back-up.
Your people need to know that when an emergency takes place – or the few moments just before – that they can raise the alarm, not just in their immediate area, but back at base too. You need to know your people are safe, and that you're meeting your WHS obligations.
SkyNet Satellite Communication's new REACH® Duress personnel safety solution is your answer.
Raising the bar on raising the alarm
Rodney Stuckey, Chief Operating Officer of SkyNet, says that when staff face hazardous operating conditions, they need a way to instantly reach out for back-up when risk becomes reality.
"There are other duress apps in the marketplace, but none that offer a full solution," Stuckey says.
"Often called 'lone worker safety solutions', these are usually consumer-grade apps with limited features and that are not backed by a dedicated 24/7 Security Monitoring Centre.
"REACH® Duress is, to our knowledge, the only truly enterprise-grade solution available with a Bluetooth pendant to extend effectiveness.
"We presently have two major Queensland government departments looking at the application, with another about to embark on a trial."
REACH® Duress is an ideal personnel safety solution for:
In-home healthcare professionals
Security guards
Street promotional staff
Home inspectors
Remote and isolated workers
Park rangers
Couriers.
"We can offer all of this functionality because, at SkyNet Satellite Communications, we have a 20-year history of providing world-leading monitoring, positioning and communications solutions for personal safety, aviation and commercial vehicles."
What a full duress solution looks like
REACH® Duress has been developed solely to be a full personnel safety alarm solution. The iOS or Android app plays an important role, but there is much more to it than being a 'panic button' on a smartphone.
Crucially, the system now unifies the smartphone app with:
the hardware of a Bluetooth pendant
the peace of mind from a 24/7 Security Monitoring Centre
dedicated IT and server infrastructure in AWS.
"What we are now announcing is a completely revised version of REACH® Duress. Essentially, this is the launch of a new product. It is exciting," Stuckey says.
"The tracking and support are better than ever, meaning that if you send a duress signal it is instantly giving alerts and extremely accurate positioning information."
It is the integration with the keyring-sized Bluetooth pendant that puts REACH® Duress in front of the competition. The pendant's features include:
Bluetooth tethering to mobile device with up to 50-metre range
Can sound an audible alarm
Still works if the smartphone is locked
The pendant can be hailed from a smartphone if lost
App shows pendant battery status (average battery life is 6 months)
Battery is a standard size available in supermarkets.
"The Bluetooth pendant is designed to sit on a set of keys so that it is always on hand and can be activated discreetly."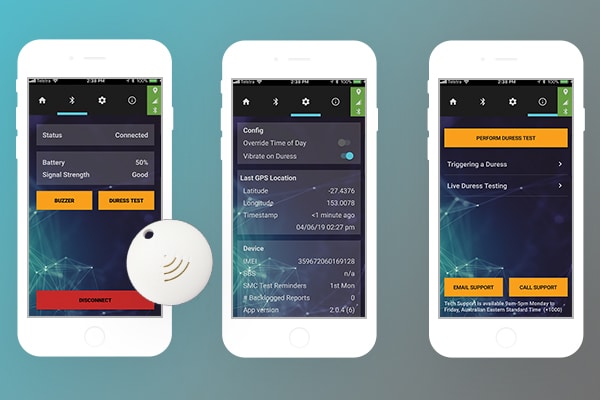 How REACH® Duress works
The single-button interface of the app or pendant is deceptively simple: all the REACH® Duress sophistication is behind the scenes. This extreme simplicity of use is intentional because time is usually the critical factor in a risky situation.
Essentially, the solution is the master switch that turns a smartphone into a distress beacon and activates an automated alert protocol.
If one of your team requires immediate assistance in the field, here's what they would do:
Open the REACH® Duress app or grab the Bluetooth pendant
Press and hold the button for 3 seconds
That's it.
Once these two steps are complete, the system takes over by:
The smartphone instantly sending the alert and precise location
The alert is received by SkyNet's Security Monitoring Centre and logged on secure servers
Your team is immediately notified by SMS and/or email
Your emergency response plan is initiated.
One crucial point is that when running the app, the smartphone's battery performance will decrease around 25 percent because it is always passively tracking the phone location.
Periods of long driving also consume battery faster as position updates are received and reported more frequently. The issue is easily overcome by using a car charger.
Find out more about SkyNet REACH® Duress
The fact is that when your team is equipped with REACH® Duress, you will have 100 percent peace of mind knowing they are covered when operating in the field, forest or street.
You'll know they have a world-leading solution in their pocket at all times to raise the alarm if they encounter a critical incident on the job … it will even still work outside of working hours. That's the true power of 24/7 monitoring. REACH® Duress is available for a free trial and group demonstration.
Find out more on the REACH® Duress information page or contact us.