C-Band
Performs better under adverse weather conditions – ideal for Tropical climates. Larger Dish required.
Ku-Band
Subject to adverse weather conditions. More focused beam and smaller receiving dish.
Ka-Band
Susceptible to adverse weather conditions. Higher Bandwidth communications with smaller dish.
For long-term projects, a fixed solution offers ease of maintenance and less movement of the dish at a lower upfront cost.
✔ Mining or Construction Camps
✔ Remote Outposts
✔ Long Term Projects
---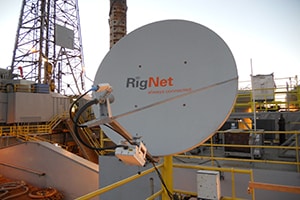 Trailer / Skid / Vehicle Mounted
Install dishes on either a Trailer, Skid or Vehicle Mount for ease of transporation and deployment.
✔ Moving Project Sites
✔ Portable Project Equipment
✔ Mobile Vehicle Workstations
---