Any Vessel Size
We offer the broadest portfolio of mobile voice and data solutions on the market. So we can meet the needs of all types and size of vessel – and every budget. Whether its Merchant, Coastal Merchant, Fishing or Leisure Craft – there is a solution to suit your requirements.
Cost-effective, accessible connectivity
SAILOR® provides low-cost, high quality voice and data services that can be accessed via wired or wireless connections built into the system. Built-in WiFi™ supports smart phones, tablets and laptops for total flexibility, while the small antenna allows for flexible installation.
Communicate with Confidence
SAILOR® products are highly regarded by maritime professionals for their design and build quality, which results in excellent reliability. To support this, we guarantee fast and dependable service through our established network of On Board Service Centers (OSC). With OSC locations all around the world, service and support is always available, whenever and wherever it is needed.

SAILOR® FleetBroadband 250
SAILOR® 250 FleetBroadband is the perfect balance between form and function with data speeds up to 284 kbps, from an antenna diameter less than 30 cm and weighing only 5 kg.  Easy installation and the ability to provide affordable, high-speed access to internet/intranet and email, with voice calling and data simultaneously ensures professional communication possibilities for any vessel.
---
---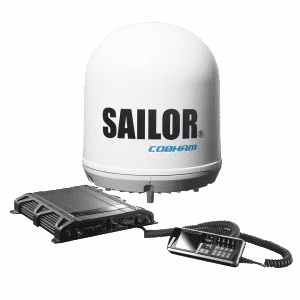 The SAILOR® 100 GX is an advanced 3-axis stabilized Ka-band antenna system designed for the Inmarsat Global Xpress® satellite network. It is built to the same high quality and high performance that has made SAILOR the leading name in professional maritime communication equipment over decades
---
---